FSHS serves, but where? FSHS serves in service units and on remote services. You will find all the service units in the HAMK area from our webpage.
Many questions have asked where I can go if I don't live near my place of study? In this case, you can book an appointment at the nearest FSHS service unit. The red dots on the map are FSHS service units. These service units have the widest range of services and some also have oral healthcare. You can book an appointment if you do not have the opportunity to do business at an service point in your place of study. On April 1, 2021, FSHS's own service point will open in the HAMK area in Hämeenlinna.
Before that, you can book an appointment at another FSHS service point. Before April, Hämeenlinna will operate with limited services in evacuation facilities at Hämeenlinna University Center.
Blue points are service units operated by partners. These are smaller and their resources are scaled only according to the number of students in that locality. Therefore, these units are only used by those studying there.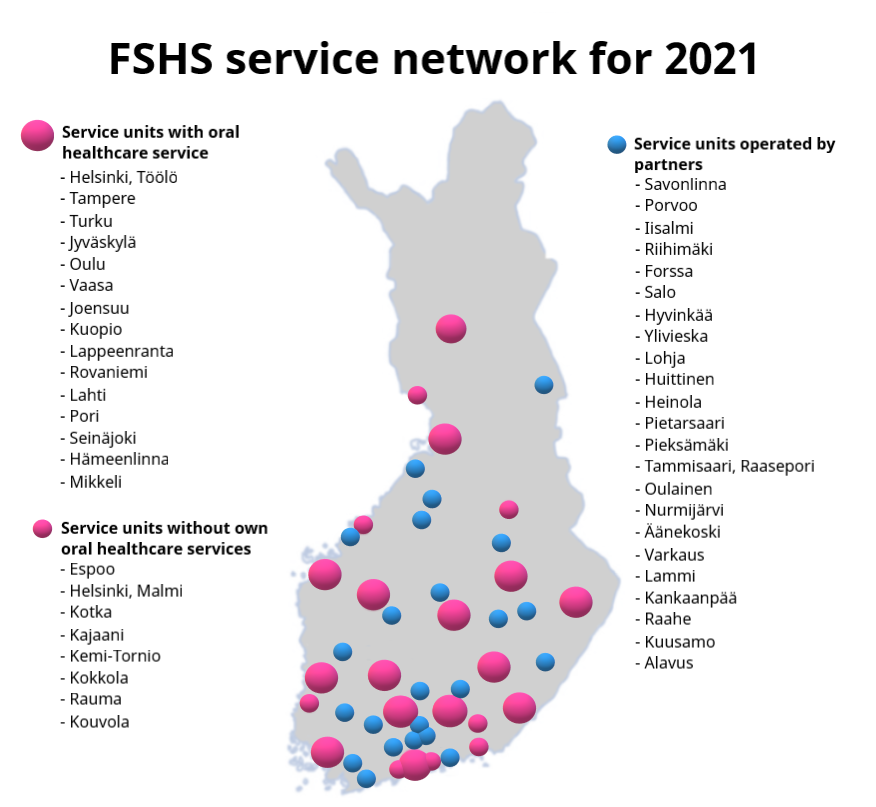 If you already have a caring relationship in municipal health care or want to use municipal care for other reasons, you can still go to municipal health care. The FSHS health care fee does not cover the costs of municipal health care, but you pay the normal fees when you use them.
In addition to local services, an ever-expanding range of electronic and remote services will be available nationwide.
Your need for treatment will be assessed before booking an appointment for FSHS services. A healthcare professional will map out your situation.
Call to nationwide service number during service hours
Mon–Thu 8 am–3 pm, Fri 8 am–2 pm.
General and mental health services 046 710 1073
Oral health services 046 710 1085
Make a callback request in the phone service and tell your phone number so FSHS can contact you. Remember to wait until the machine tells you that your callback request has been registered. FSHS will call you back.