Student Union is selling Survival Kits for incoming exchange students studying in HAMK. Survival Kit includes necessities that are needed for your everyday life in Finland, for example the essential kitchen utensils and bedclothes.
Survival Kit contains the following items:
fork, knife, spoon and teaspoon
mug and glass
soup bowl, plate and small plate
set of kitchen utensils (5 pieces)
saucepan and a lid
frying pan
kitchen towels
potholder
pillow and duvet
sheet, pillowcase and duvet cover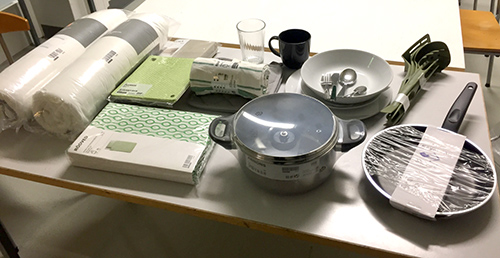 What does it cost?
The price of the Survival Kit is 80 EUR. Kits are sold only for the members of the Student Union. To become a member, please fill out the membership application before or shortly after ordering the Survival Kit. Membership fee is 28 €/semester or 41 €/academic year.
HAMKO's membership
By becoming a member you'll receive official Finnish student card which is a proof of your student status and entitles you to all student benefits and discounts in Finland, for example student-priced meals at your campus cafeteria, discounts on train tickets and long-distance bus tickets and much more.
We will gladly help you with any issues concerning membership. Please send your message to hamko@hamko.fi.
How do I order a Survival Kit?
We only have a limited amount of Survival Kits, which is why we recommend pre-ordering them before your arrival.
You can place an pre-order of the Survival Kit by the link below. We will prepare the Survival Kit for you and it is ready when you arrive. Be sure to submit the form after completing it. The order is confirmed after you submit the form.

Please remember that once you've ordered the Kit, you'll have to pay for it even if you decide later not to use it.
In order for us to deliver the Survival Kit on time to your home campus place the order at least three (3) days before your arrival. If you order later than this we cannot guarantee that you will have your Survival Kit on the day of your arrival.
How do I pay for the Survival Kit?
If you are coming to study in Hämeenlinna, you can pay the Survival Kit at HAMKO's office after arriving. You can make the payment with card or cash.

If you are studying on other HAMK campus than Hämeenlinna, your Survival Kit will include an invoice.
What to do with the Survival Kit when my exchange period / study time ends?
The Survival Kit is your property and you may take it with you when your exchange period ends. Anyhow, if you don't want to take your Kit with you, you have an option to return the Kit to the Student Union and we will recycle the items. Items that are in good condition may be used for the future Survival Kits.
If you live in the HOPS (The Hämeenlinna Student Housing Foundation) student apartments, HOPS will inspect your apartment after you leave. If it is clean and tidy, HOPS will refund your security deposit. If not, the apartment cleaning costs will be deducted from the security deposit. So, make sure that all the Survival Kit items are removed from the apartment before you leave.
If you are interested in ordering a Survival Kit, please contact us by email hamko@hamko.fi.