Student card is a sign that you are a member of a Student Union. HAMKO's members have access to a plastic AMK student card and Pivo digital student card.
NB. Study Path students get a special Study Path student card, since Pivo and AMK student card are not available for them.
AMK student card
All HAMKO's members receive a plastic student card. The validity of the student card is indicated by the academic year sticker, which is a proof of the paid membership fee. We always get the stickers for one academic year at a time, so the sticker is renewed every year.
It is possible to attach HAMK library card and access ability to the HAMK campuses to your student card. These features will remain valid throughout your studies, so you do not need to update them.
Once you have picked up your student card, you can activate it as a library card at any HAMK library customer service point. More information about the library card and library's services can be found on the HAMK Library website.
You can activate the access ability to your student card yourself on self-service point found on each campus. There's more information about access to campuses on HAMK website.
If your card gets lost, please contact hamko[at]hamko.fi to order a new one.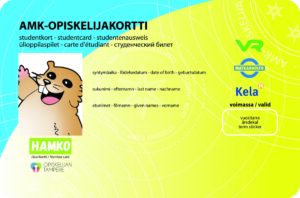 Pivo digital student card
As HAMKO's member, you also have access to Pivo's digital student card and thousands of student benefits all over Finland! Pivo Student Card is an official student card that also gives you Kela meal subsidy and VR and Matkahuolto discounts. If you wish, you can start using Pivo's mobile payment features, too.
Pivo is a mobile payment application, to use which you need online banking credentials and your payment card information. However, Pivo's student card is free of charge.
How to activate student card:
Download Pivo, sign in with your online bank user identifiers and add your payment details.
Open Pivo and select Student card and pick your organization.
Create a student card by following the app's instructions
A Student Card or a Meal Subsidy Card?
Pivo's student card can be used by university students, university of applied sciences students and vocational school students who are members of their student union.
With the meal subsidy card, you get only a student-priced lunch supported by Kela, no other student benefits. VR and Matkahuolto's student-priced tickets and the other student benefits can be used with Pivo's student card.
If you decide to become a member of your student union, you can easily update your meal subsidy card to a student card at Pivo.
| | | |
| --- | --- | --- |
| | Student Card | Meal Subsidy Card |
| Official student card | X | |
| Free to use | X | X |
| Inexpensive student lunches | X | X |
| VR and Matkahuolto discounts | X | |
| Slice.fi student benefits | X | |