In the board blog series, board members talk about their experiences on the HAMKO board and what their processes have included. In this fourth blog, board members Silja and Tuomas are sharing their experiences with communications over the course of a year. Silja is fourth year Sustainable Development student and Tuomas studies second year Bioeconomy Engineering.
The student union's boards communications manager helps the communications specialist in the planning and implementation of communications. The duties of the communications manager include ensuring that HAMKO's communications are clear and functional. The communications manager produces content for e.g. HAMKO's social media channels, Facebook, Instagram and now also TikTok.
Why did you wanted to do communications?
Silja: "I originally applied to the board of HAMKO with the goal of becomig the communications manager of the student union board. My background with association activities and work have helped me to notice my interest in communication. I really wanted to develop in it. During this year, I have been both event and communications manager. Because of this, we decided right at the beginning of the year that I would focus on event communication. Of course, I ended up doing a lot more, created a TikTok account for HAMKO, for example!"
Tuomas: "When I applied to the board of HAMKO, the position of communications manager interested me the most. I thought it suited me, because I was familiar with social media services and I could use my own creativity in communication. Being curious, I am also always eager to learn new things. I wanted to learn how to make good and clear communication using different tools and image editing programs"
You have done a lot of social media, could you tell us more about it?
Silja: "TikTok has been my favorite child this year. Communications has been a natural and meaningful thing for me: I normally take a lot of pictures and capture many moments on my camera roll. It has been natural for me to photograph a little bit of "everything", for example during the working days of the board or while setting up events. "If only I could get good pictures of this for TikTok!" – I often tend to think.
I've improved in producing videos, learned to use different programs and applications, and gained more understanding how the algorithms of different channels work. Communication is a such an interesting field! This year, I also joined Hämeenlinna Appro's communication team. While working on Appro's communications, I got hands-on with the planning of a larger-scale event for the first time and learned what it takes to produce one. Communication needs to be planned weeks in advance and a precise communication calendar of stories and feed posts must be made.
Doing communication and social media is incredibly fun and I have learned so much in this role! Doing social media frequently has speeded up my ability to react. I don't make post anymore by the hardest with thinking too much. Many would not believe that making a few IG stories can take a lot of time when you think about wording, tone of voice and translations."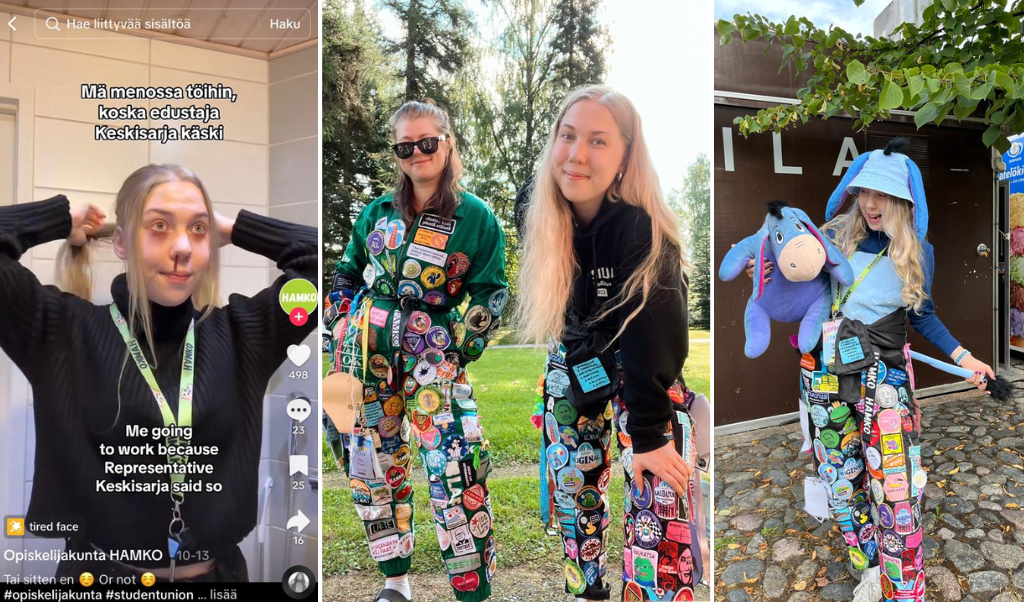 Tuomas: "Although you can be creative, you can't spend too much time thinking about details. Then getting the finished result easily takes an unnecessarily long time. In communication, cooperation is also important if your own idea does not work or if it is, for example, a big event where a lot of communication is done. Mistakes are made in communication too, but you learn from them!"
Silja: "If I can talk about the flip side of social media: I have also understood how much our world really revolves around social media. The communications manager spends a lot of time on the phone, and the person in charge is required to be able to react quickly and communicate about them. Sometimes you must be on your phone a lot when different applications chirp with their notifications. Sometimes it's good to remember the real world and just put the phone away."
What type of things have you learned?
Silja: "I've learned a huge amount this year about brand communication and marketing and the use of different tools. One of the most important tools for a communications manager is Canva – an image editing program. When creating posts, your own visual eye and creativity can flourish. As a communications manager, you can influence what is communicated and how it is communicated, how the images look.
Tuomas: "During this year, I think I have developed a lot in communication. At first, I watched from the side how more experienced people communicated and learned to do it myself. I have managed the communication of some events and to some extent more general communication as well. Social media algorithms have become familiar and now I know how to do brand communication!"
Who would the role of communications manager suit?
Tuomas: "I recommend the role of communications manager to you, who wants to try new things and develop. I can tell you from experience that HAMKO is a great place to learn how to do communications!"
Silja: "I feel that the role of communications manager is right for you if you are interested in social media, writing or content planning and production. Or if you just want to make fun and meaningful content on TikTok and learn how to use it! You don't have to be a ready-made social media professional, you will be introduced to the position and you will learn by doing! And the communication of the student union doesn't have to be so serious, it can look like us! Like students. <3"