In the board blog series, board members talk about their experiences on the HAMKO board and what their processes have included. In the third part of the blog series, 2023 board member Maisa talks about her area of responsibility, member benefits and services. Maisa is studying as Public Health Nursing for a third year.
My specific role centered on member benefits and services. This choice was intentional because I knew it would afford me the opportunity to work on items such as overalls and other products available to the student union. Although my responsibilities do not demand much time throughout the year, the bulk of my work transpires towards the end of spring and the beginning of autumn. During this period, aside from my designated responsibilities, I also found time to engage in other activities.
The primary focus is in the overall procurement
Spring marked the pinnacle of effort in my area of responsibility, as it coincided with the relevance of ordering and designing overalls. During this phase, I liaised with companies and partners, negotiating overall advertisements successfully. In the summer, working collaboratively with the entire board, we contemplated additional products and concluded that HAMKO belts would be ordered. The nature of my role allows for a considerable degree of autonomy, providing room for creativity.
As autumn arrived, the overall business gained momentum, and I played a key role in facilitating overall sales.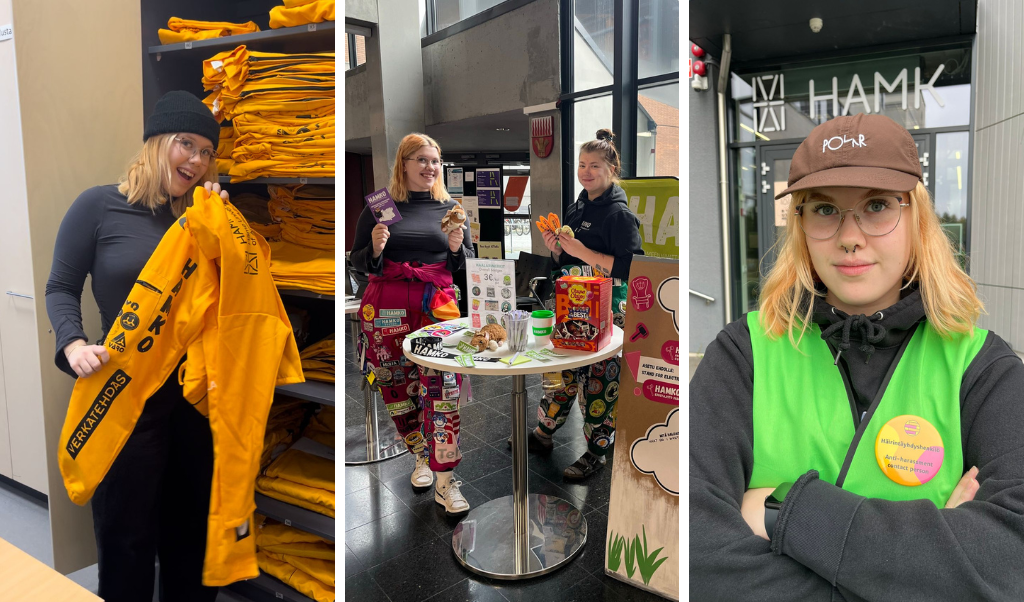 Diversely involved in other areas of responsibility
Engaged in various other areas of responsibility, I have garnered extensive insights into my designated role and board responsibilities. These acquired skills undoubtedly contribute to my future endeavors. In addition to my primary area of responsibility, I actively participated in organizing events and various board activities throughout the year. This demonstrates that, even with a specific area of responsibility, there's ample opportunity to engage in a wide array of tasks.
I took charge of organizing a parliamentary election panel, aided during Alkupamaus and Loppurysäys events, and actively participated in the HAMKO On the Road tour. Towards the end of the year, I also assumed the role of HAMKO's harassment contact person. From my own experience, combining this area of responsibility with other tasks proves beneficial in maintaining an even workload.
Operating as an anti-harassment contact person
At the end of the year, I have also worked as HAMKO's anti-harassment contact person, during which I have acted, for example, at events as a person to whom harassment or inappropriate behavior can be reported.
Anti-harassment contact persons undergo training and act confidentially, which means that things can be reported without fear that things will spread. You can contact the anti-harassment contact persons by e-mail or come to talk in person. We are also on call during events.
Looking ahead to the next year, the area of responsibility will encompass the design and ordering of new overalls. This role offers the exciting prospect of inventing new elements and engaging in a variety of tasks. Joining the board is a fulfilling experience!