The beginning of the new academic year is approaching and maybe you are wondering if you should join the Student Union? Well, we of course think that you should! Maybe you already saw our video on Starter Kit of Digital Skills -course, but here is a short summary of why join HAMKO, your own student union with few tips for becoming a member.
Top 3 reason to join your Student Union:
Supervision of interests: One of our most important missions is to work as a supervisor of interests in all HAMK's campuses and schools in order to make HAMK even better place to study.

Supervision of students' interests is carried out in many ways, like by representing students in the internal work groups of HAMK, by lobbying among the local decision-makers and by taking care of the student representation for example in the school administration. Check out different ways to take part in HAMKO's actions!

As a member of HAMKO, you will get an official student card as a sign of your membership. You can include HAMK library card and HAMK Moves sport pass to your AMK student card. Your card can also work as a key to campuses and EXAM facilities. All you need to do, is activate your student card on a campus.

Member benefits: You get discounts from trains, busses, restaurants, student overalls, TimeTravels' HAMKO trips and many other places. Always remember to ask for student discounts! You can get a student-priced lunch in all Finnish student restaurants with your student card. And remember that there are benefits all over Finland, not just HAMK localities. In addition, you have access to Pivo digital student card with thousands of student benefits all over Finland.

So, you benefit from the membership even if you don't live in the same place where you study.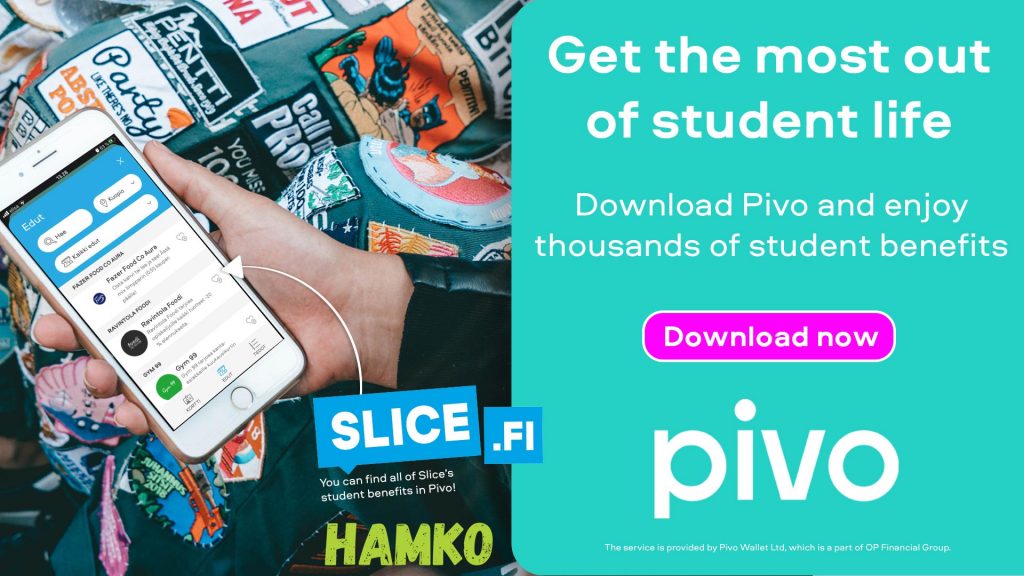 Who can join for a member?
Everyone at HAMK is studying for a degree can join as a member. You can join if you are doing Bachelor's degree, Master's degree, exchange studies or path studies.
Part-time and master's degree students are degree students just like everyone studying for a bachelor's degree as full-time student. So, they are entitled to all same benefits, they get the same AMK student card and of course access to Pivo digital student card.
However, study path students' membership differs from degree students' membership. Students in study paths are not entitled to all the same benefits, like Kela meal subsidy or student discounts from trains and busses. This means that they don't get the same kind of student card as degree students. Study path students do get discounts at least from HAMKO's events, student overalls and HAMK Moves sports pass.
So, now you are ready to join HAMKO!
Yay! All you have to do is fill online joining form. We get quite often questions about filling the application form, so take a look at our answers to six frequently asked questions:
1. I don't have my school email address yet. Can I join anyway?
You will need your HAMK email address (@student.hamk.fi) when you join HAMKO. You can activate your HAMK user ID and email at Patu service. If there are problems activating your user ID, please contact HAMK's IT Services, ServiceDesk.
2. I don't know or remember my student number? Can I leave it blank?
You can check your student number from Pakki and we recommend you to do it. Even if you don't need the student number that often, it's good to learn where it can be found if needed. If you don't know your student number yet, it can be added to membership register later. So, you can join HAMKO now and give us your student number later.
3. How will I know is my photo good for student card?
Photo for student card must be a facial photo. The photo does not have to be an official passport photo, but it needs to like one. So, your face must show completely, and you must be easily recognizable. Make sure that for example your forehead isn't cropped out! So, take a selfie following these instructions and you can be sure that your photo is ok. Make sure there are no strong shadows on your face.

4. Can I pay subscription online or do I have to come to HAMKO's office?
Online payment service is provided by Paytrail. You can pay via internet banking or for example with Visa or MasterCard.

Paytrail's payment links have occasionally gone into spam, so it's a good idea to check your email for spam if you suspect the payment link hasn't arrived.
When do I get my student card?
The membership of a new student is valid from the moment the presence as a degree student at HAMK begins – this means the beginning of August/January (depends when you are beginning your studies). So, you can start using Pivo digital student card from the beginning of August/January. Please note that it is possible that there will be a short delay in data transfer after joining HAMKO.
If you are already a student at HAMK, your membership is usually valid within a couple of working days of joining.
What is the validity of the membership?
You can purchase a membership for a semester, academic year, or longer period at a time.

You will receive a validity sticker on your student card or an entry on your mobile card for the semester or year at a time. If you have purchased the membership for a longer period of time, you will receive a new sticker and the validity on your card and the mobile card will be updated as the semester or the academic year changes.

Please note that student benefits and discounts are only available to you during your studies! The membership of the student union and the validity of the student card expire when the student graduates and / or at the end of the right to study. If you graduate in the middle of the semester, you will not be able to receive discounts after graduation.

If you graduate earlier, or your studies end for other reasons, and you have paid for membership for a longer period, you can resign your membership and receive a refund for unused semesters.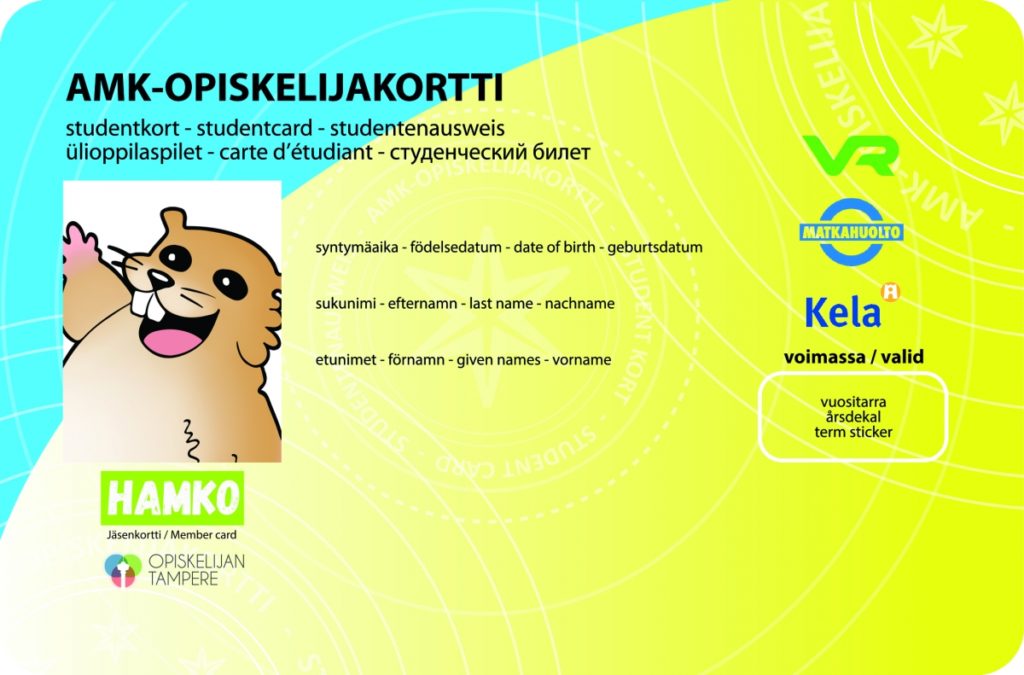 The first AMK student cards of the academic year will arrive to HAMKO's office in August or in the beginning of September. Normally the delivery time of AMK student card is about 1-2 weeks. You will be notified of the arrival of the card at your student.hamk.fi e-mail address. 
If you have any other questions about HAMKO's membership or student cards, for example, please contact us by email hamko@hamko.fi.